Cruise specialist : Atlantic Ocean and English Channel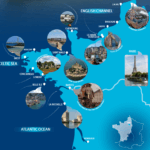 BLB Cruises&Shorex welcomes cruise ships in North-western French ports. Our team creates and proposes services in accordance with the wishes and the desires of cruises' guests, as well as with the requirements of the companies behind these prestigious sea liners !
From providing vehicles or professional guides, to creating tailor-made excursions or organizing the events, or providing the shuttle buses or transports for embarking/disembarking guests, BLB Cruises & Shorex is your ground operations' partner.We are present in the following ports: Calais, Boulogne-sur-Mer, Dunkerque, Rouen, Le Havre, Honfleur, Caen, Cherbourg, Brest, Saint-Malo, Douarnenez, Roscoff, Lorient, Nantes, St Nazaire, Belle-Île-en-Mer, La Rochelle and many others…
Berth on our shores with serenity and enjoy our incredible regions with our reactive team, who takes into consideration all the specificities of our adored cruise sector!